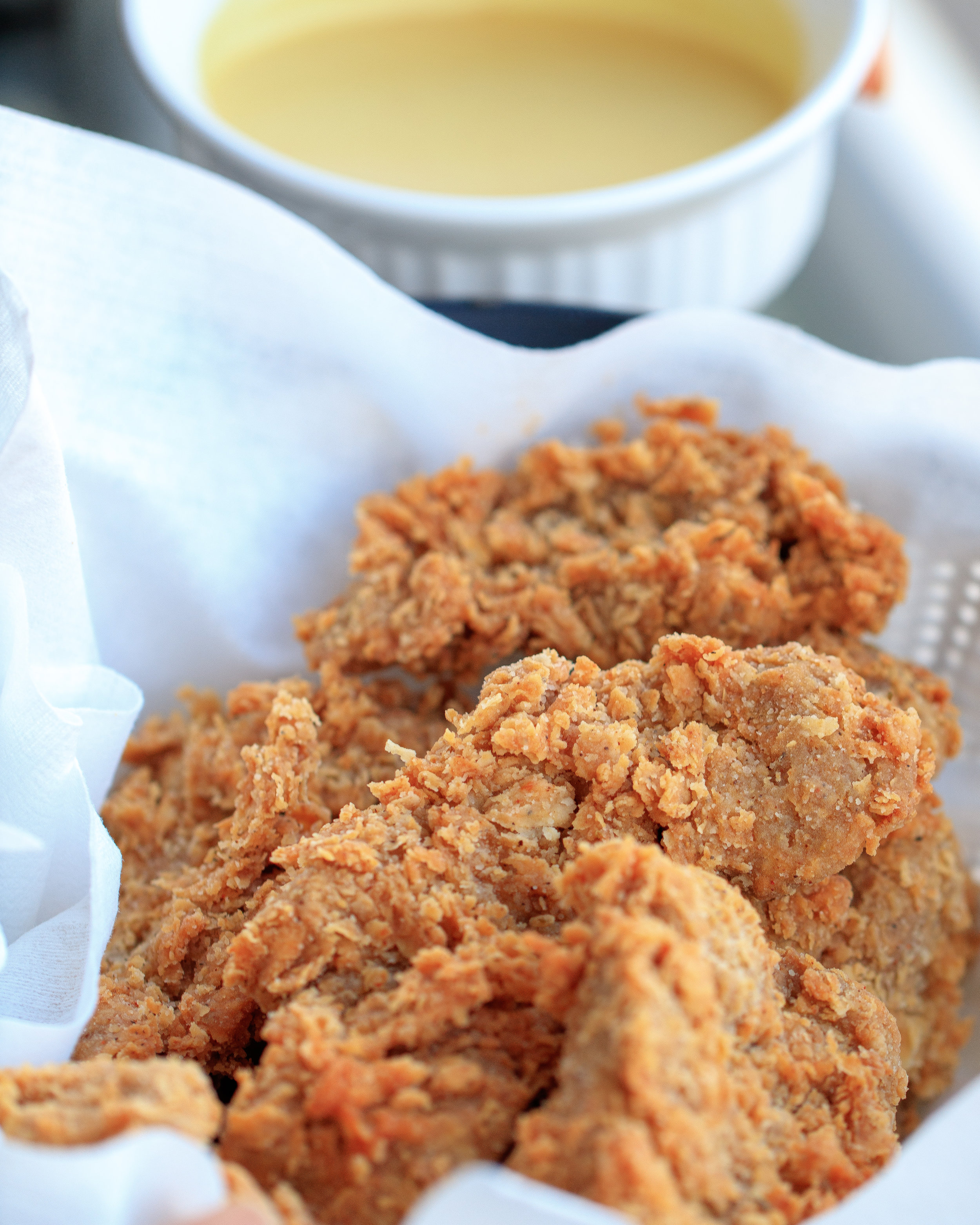 MOUTHWATERING. ORGANIC. PLANT-BASED.
PLEASE VISIT OUR NEW PRODUCTS* PAGE TO PLACE YOUR ORDERS FOR OUR NEW VEGAN ORGANIC FRIED CHICKEN- FULLY PREPARED AND FROZEN JUST REHEAT AND EAT FOR THE EXACT SAME JUICY, EXTRA CRISPY, DELICIOUS TASTE EVERYONE IS RAVING ABOUT!
ATLAS MONROE IS EXPANDING! WE ARE NO LONGER OFFERING CATERING SERVICES AT THIS TIME. YOU CAN LOOK FORWARD TO SEEING ALL OF THIS DELICIOUS CUISINE WHERE IT IS MORE READILY AVAILABLE TO YOU ALL! THANK YOU SO MUCH FOR A WONDERFULLY SUCCESSFUL YEAR! MAY WE CONTINUE TO MAKE ALL OF YOUR VEGAN DREAMS COME TO TASTE!


ENTRÉES
add an additional side for $3 & upgrade to a premium side for $4
$

17.9
Deep Fried Turkey Roll
two succulent slices stuffed with decadent stuffing, laced with cranberries, & fried to a golden crisp, served with your choice of a side and cornbread
$

18.9
Apple Wood-Fired Ribs
delectable wood-fired ribs glazed with our special sweet and savoury barbecue sauce, served with your choice of a side and cornbread
$

14.9
Fried Chicken Sandwich
our signature fried chicken on a sweet roll layered with lettuce, tomatoes, pickles, & cheddar cheese served with garlic herb fries
$

15.9
Cajun Southern Fried Chicken
mouthwatering, juicy, & seasoned to perfection served with your choice of a dipping sauce, a side and cornbread. Dipping sauces - sweet & spicy chipotle, honey mustard, and our special bbq sauce. .65 per extra sauce
$

6
Garlic Herb Fries
sprinkled with garlic, salt, cilantro, and herbs
$

6
Breakfast Potatoes
Flavorful, decadent, soft, yet crisp, with a hint of spicy
$

11.5
Mashed Potatoes w/ Sautéed Mushrooms & Onion
herb laden creamy potatoes, drizzled with savory marinated mushrooms and onions
$

8
Sautéed Broccolini & Garlic
fresh, savoury, clean, & simple
$

7
Green Lentils over Jasmine Rice
slowed cooked & marinated with moist jasmine rice
$

7
Red Lentils over Brown Rice
slow cooked and marinated with fluffy brown rice
per $3.3
Buttered Sweet Corn Bread w/ Strawberry Sauce
moist and crave-worthy.
per $3.3
$

14.5
Truffle Shell Mac & Cheese
shells smothered with white cheese sauce, topped with bread crumbs & drizzled with truffle oil
$

12
3 Tier Bomb Salad
separately prepared, layered perfectly; a colorful illustration of what a salad should taste like- created with spinach, cabbage, corn, red onions, & garbanzo beans.
$

65
Red Velvet Cake
classic red double layer cake, topped with white cream cheese frosting.
$

60
Coffee Cake
brown sugar & spice filling is layered and baked in a rich sour cream coffee cake
$

60
Lemon Cake
supremely moist, lemon double layer cake with sweet lemon glaze frosting
$

60
Vanilla Chocolate Cake
sweet vanilla double layer cake with chocolate buttercream frosting
$

65
Chocolate Cake
rich, moist chocolate double layer cake with chocolate buttercream icing
$

65
Strawberry Cake
light pink double layer cake, completed with bites of fresh strawberries & strawberry buttercream frosting
$

65
Legendary Sweet Potato Cake
delicious, decadent, & moist sweet potato double layer cake, spiced with cinnamon and topped with vanilla frosting
$

65
Strawberry Mango Bliss Cake
strawberry & mango pureed & infused in a moist vanilla cake
$

65
Chocolate Chip Cookie Dough Cheesecake
cookie dough is complimented in creamy cheesecake with a graham cracker base
$

3
Peach Ice Tea
Sweetened, but not overly.
$

3
Strawberry Lemonade
Sweet & puckery.
$

3
Raspberry Spearmint Ice Tea
Lightly sweetened.
Please fill out order form below.